This Friday and Saturday, 26 & 27 August, the 24 hour IF festival is kicking in again!
Like last year, we are with WhatIIIF? again one of the official partners of the festival.
Watch new work by 150+ improvising artists from around the world!
Check it our here on the festival website.
What is IF 2022?
IF 2022 is a festival celebrating improvised arts. This 24-hour event will feature pre-recorded video and audio performances from multi-disciplinary artists around the world—musicians, poets, dancers, theatre practitioners, and more, starting on August 26th at 7PM (EDT)—you can find your local start time here!
IF 2022 also features a free in-person/livestreamed closing concert by Toronto-based Japanese drumming ensemble Nagata Shachu that will take place at Branion Plaza (University of Guelph campus) at 6pm on Saturday, August 27th.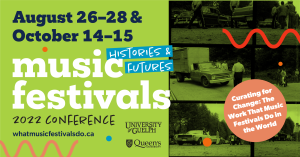 This year's Festival is connected to an online conference called "Curating for Change: The Work That Music Festivals Do in the World," (Aug. 26-28 and Oct. 14-15) put on through Queen's University and the University of Guelph, that examines music festivals as resonant sites of activism, equity, environmental stewardship, and community-building. Patricia Nicholson and William Parker's Keynote address, which will open up IF 2022, is part of this conference as well. You can view the full conference schedule at whatmusicfestivalsdo.ca.
IF 2022 is put on by the International Institute for Critical Studies in Improvisation at the University of Guelph, with the support of sponsors and partners from around the globe.
When does IF 2022 start and end?
Given that IF 2022 is an international festival, it will begin and end different times depending on where you live. To find your local start time, please use the handy tool on our website.
Who is performing?
You can view the full list of the participating artists on The Artists page.
Where do I watch / How do I tune in?
The festival will be streamed on the IF 2022 website (improvfest.ca) under the "watch" tab. You can access the event through this link. We welcome you to treat yourself to a full festival experience as much as you can at home: invite your loved ones over and host a viewing party; bake a special dessert; lay in the hammock; make a blanket fort; ride the stationary bike—it's up to you!
To attend our connected conference, "Curating for Change: The Work That Music Festivals Do in the World," (August 26-28 and Oct. 14-15), register for free via Eventbrite. You will be sent a Zoom link through which you can access all online conference events.
Is there a schedule for IF 2022?
In the spirit of happenstance discovery, this festival has no posted schedule. Depending on when you tune in, you may catch a performer you already know and love, but you might instead discover an intriguing performance by an act you've never experienced. As we become more and more used to experiencing art on-demand, we feel it's important to invite chance, surprise, and ephemerality into our experiences of artistic performance, especially in an online context.
What if I miss the festival?
Much like an in-person festival, you can only experience IF 2022 on the days during which it is taking place: August 26th and 27th. This means that performances will only be available for the 24-hour duration of the festival.
Who do I contact if I have a question?
General inquiries can be sent to improvfest@uoguelph.ca.